Family Without Roof
2022-10-02
Price 2000, 2500, 3000, 4000, 4500, 5000 AMD
Boheme Theater presents a new comedy "Family Without Roof" within the framework of "Young people are our present" project.
Cast:
Telman Arakelyan, Tamara Petrosyan, Sona Matevosyan, Nvard Dudukchyan, Ziroyan, Andranik Harutyunyan
Author and director of the play: Telman Arakelyan
Musical arrangement: Grigor Yeranosyan
Producer: Christine Hovhannisyan
Poster photo and graphic design: Arvin Kocharyan
Time: 19:00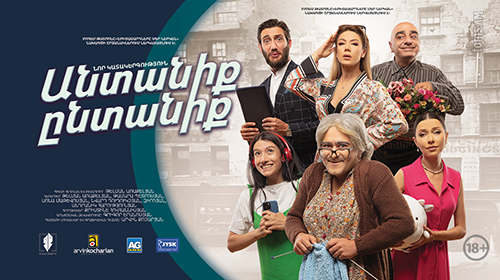 Please use the online form below to order tickets.
Attention: don't forget to fill in all fields,
especially your telephone number for us to be able to get in touch with you.
Click the "+" sign when you want to order tickets for different dates and/or different prices. For example: 2 tickets for x AMD and 3 tickets for y AMD.
Delivery service costs 300-500 AMD and is available within Yerevan.