Backstage or Theater Anatomy
2022-12-11, 2022-12-27
Price 2000, 3000, 4000, 5000, 6000 AMD
Premiere
An honest comedy in 2 acts
Author and director of the play: David Abrahamyan
Cast:
Eva Khachatryan, Mkhitar Avetisyan, Senik Barseghyan, Zhora Hovhannisyan, David Abrahamyan
In a happy, carefree atmosphere, we will try to take a trip into the world of theater together, discover its unknown sides for the audience. This play comprises the actors' real stories, intrigues, secrets and, of course, endless laughter.
Time: 19:00.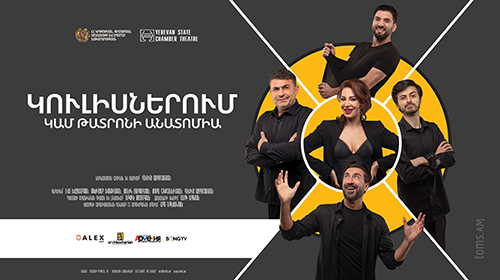 Please use the online form below to order tickets.
Attention: don't forget to fill in all fields,
especially your telephone number for us to be able to get in touch with you.
Click the "+" sign when you want to order tickets for different dates and/or different prices. For example: 2 tickets for x AMD and 3 tickets for y AMD.
Delivery service costs 300-500 AMD and is available within Yerevan.