It Doesn't Matter With Whom
2022-10-16, 2022-10-30
Price 1000, 2000, 3000, 4000, 5000 AMD
Heartbreaking comdey, 14+
Based on "Butterflies Are Free" by Leonard Gershe.
Director: Lusine Yernjakyan.
All Don Baker wants is a place of his own away from his over-protective mother. Don is setting up in a New York apartment and making the acquaintance of his off-the-wall, liberated, actress neighbor Jill. Don learns the kind of things from Jill that his mother would never have taught him! And Jill learns from Don what growing up and being free is really all about.
Cast:
Marika Dovlatbekyan, Zhora Martirosyan, Luiza Nersisyan, Zhora Hovhannisyan
Time: 20:00.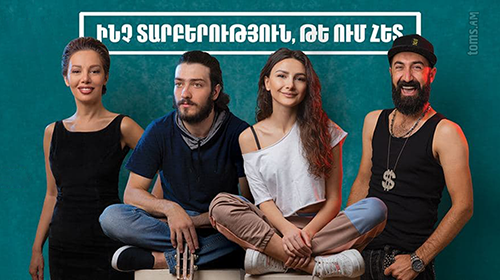 Please use the online form below to order tickets.
Attention: don't forget to fill in all fields,
especially your telephone number for us to be able to get in touch with you.
Click the "+" sign when you want to order tickets for different dates and/or different prices. For example: 2 tickets for x AMD and 3 tickets for y AMD.
Delivery service costs 300-500 AMD and is available within Yerevan.