To Arms!
2022-12-17
Price 1000, 2000, 3000, 4000, 5000 AMD
Pessimistic tragicomedy in 2 acts, 110 min.
Author and director of the play: Ara Yernjakyan.
This play is a reflection of our times. A reality that does not only belong to Armenia but also to any other country that willingly or unwillingly is dragged into the projects of the… let us say "super countries". Projects that affect the country's general lifestyle, economy, traditions etc. The heroes of the play are looking for an exit from that situation, trying to go to places that they think are safer, with a better chance to live and create, work and achieve. Be it in space, on earth, in the mountains, even under the water. The heroes' talk, think, plan, quarrel when the "super countries" shout at them, make fun of them, wave a finger at them, and even make decisions that are not only incomprehensive but also unacceptable.
Time: 19:00.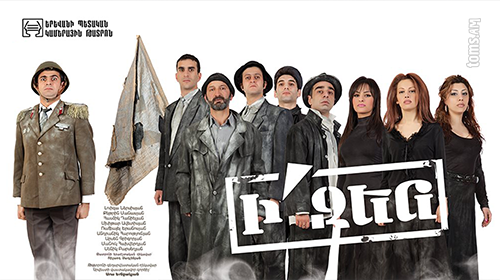 Please use the online form below to order tickets.
Attention: don't forget to fill in all fields,
especially your telephone number for us to be able to get in touch with you.
Click the "+" sign when you want to order tickets for different dates and/or different prices. For example: 2 tickets for x AMD and 3 tickets for y AMD.
Delivery service costs 300-500 AMD and is available within Yerevan.