Dilijan Music Fest 2021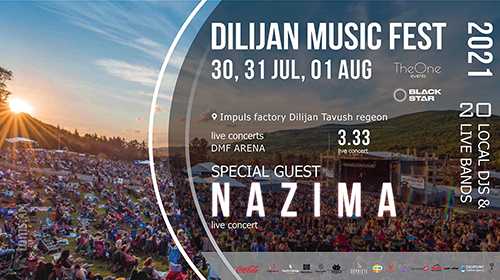 Dilijan Music Fest is the first electronic music festival in Dilijan, Armenia.
Dilijan Music Fest was conceived as a multi-platform, regional festival - a vivid event in cultural and social life. An outstanding team of professionals from various countries turned the dream into reality. Love for music, dance and life became the primary communication tool. DMF has yet to become the greatest event in the region of Caucasus. The partners, sponsors, and of course you - the guests and participants of the festival - are the ones that will make it happen.
Whenever you come to Dilijan, you'll be met with great music, fiery dance, crazy fun and of course - complete freedom to express yourself. Pack up, and don't forget to bring along your sportswear, sunscreen, sunglasses, comfortable footwear and positive vibes.
The event will start on July 30 (Friday) at 13:00, and will end on August 1 at 23:00.
Access is allowed only for persons over 18 years old.
Yerevan-Dilijan-Yerevan transfer buses for festival participants will operate from Mega Mall throughout the day.
Read more and order tickets here.