Bike Fest: The Heartbeat of Mountains 2021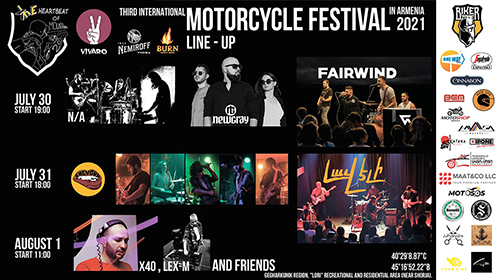 The third international bike festival will be held in Armenia from July 30th to August 1st. You can enjoy 3 adventurous days throughout a wonderful bike atmosphere. You are all welcome to participate, regardless of the number, thickness, availability or unavailability of your wheels. Venue of the festival is Shoghakat in Gegharkunik region, "Lori" recreation area (near Shorja).
The following activities will take place during the festival:
- Motorcycle march and show
- Interesting, energetic and rhythmic concert
- Games and competitions
- Display of custom tuned motorcycles. The most unique of them will get presents from the festival partners: various motorcycle accessories, care products, oils, gear, wheels, spare parts etc.
- Guests from different countries
- Motorcycle riding courses, advice and briefings
Food Court, Bar, Club... (food and drinks are not allowed to be admitted into the festival area)
Read more and order tickets here.